Pavé Pink™
Pavé Pink™
Patent #: PP35112
Botanical Name: Lagerstroemia Indica 'JBG 19003'
HARDINESS:
2-5: Annual / 6: Perennial / 7-10: Deciduous Shrub/Small Tree
POT SIZE:
1 Gallon & 2 Gallon
SIZE:
4' H x 5' W
PLANT FOOD:
Fertilize once per year as new growth emerges
IDEAS FOR USE:
Flawless black foliage and masses of brilliant jewel-toned blooms from Summer until the first frost. 
Colorful foliage early Spring through Fall
Beautiful blooms late Spring through Fall
Drought tolerant
Low maintenance
Highly resistant to mildew
Great for smaller gardens
BLOOM TIME
Beautiful blooms late Spring through Fall / Colorful foliage early Spring through Fall
WATER
Water thoroughly every other day for first month. Drought tolerent once established
LIGHT
Full sun- 6 or more hours of direct sunlight daily
You know and love all of the Black Diamond® Crape Myrtle varieties—but there's a new beauty to add to your collection! Introducing Pavé Pink™--a brilliant gem with magenta-pink blooms and Black Diamond's classic, nearly-black foliage. This stunning, unique new jewel adds a weeping form to your garden, creating a graceful focal point or lovely border. More compact than other members of the Black Diamond Crape Myrtle family, Pavé Pink reaches only 4' tall and 5' wide, perfect for smaller gardens or patio containers. Or plant these lovelies along a border or driveway and enjoy their sparkling blooms all summer long until first frost. You'll love the fabulous form and beautiful blooms of Pavé Pink.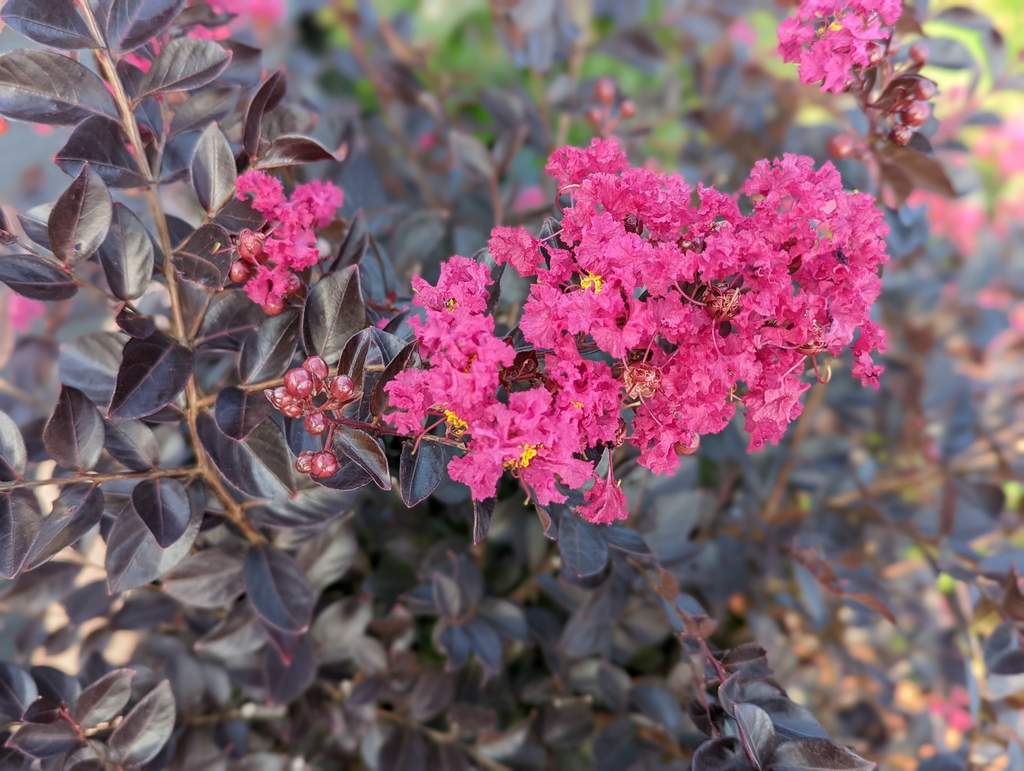 You May Also Like