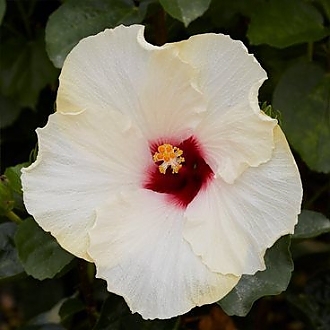 Hollywood™ Hibiscus Drama Queen™ ppaf
DRAMA QUEEN™ lives up to her name, with bright white bold blooms that stir up talk wherever she goes. Looking for a container garden thriller? Let DRAMA QUEEN™ do the work for you. She has a big (red) heart, though, and really does enjoy time with her besties, SOCIALITE ™ and PARTY GIRL™. When they're (planted) together, you're going to want pics, and so will everyone else. That's just fine with these ladies. They all live for the spotlight (and sunlight). If not enjoying a night on the town, DRAMA QUEEN™ can be lounging poolside with a fruity drink. She likes to stay sun-kissed and well-hydrated.
You might be a DRAMA QUEEN™ if:
You enjoy being the center of attention.
Wear your heart on your sleeve.
Always want to be included in everything.
Bloom time: Spring 'til first frost
Light: Full Sun-6 of more hours of direct sunlight daily
Hardiness: Zone 9-Protect your patio planters by bringing them indoors in the winter.
Size: 3' H x 3' W when planted in the landscape. Patio plantings can be pruned to maintain an optimal size
Spacing: 3-4'
Water: Keep soil moist until established
Prune: As needed and desired to maintain shape
Plant Food: Apply slow release once per year in early Spring
Mulch: Keep a layer of mulch around the base of the plant year-round to conserve water and reduce weeds.
Ideas for Use: Hollywood Hibiscus are perfect to add to your landscape as colorful tropical annuals, and also make beautiful container plants to display on your patio or around your pool.