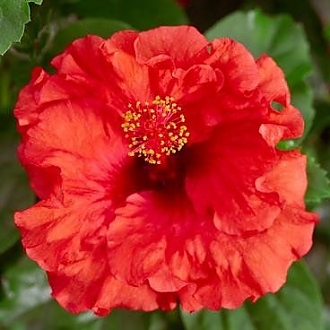 Hollywood™ Bombshell™ Hibiscus rosa-sinensis '6088-2' PP25678
Hollywood Hibiscus BOMBSHELL™ lives up to her name: she's a big, bold, beautiful presence in the garden, turning heads wherever she's planted. As Hollywood royalty, her ruffled petals she command attention. Frequently seen with WILD CHILD™, they make quite the pair. She spends time with STARLETTE™, helping her navigate the attention that comes with being a Hollywood star. Like bright red lipstick, BOMBSHELL™ never goes out of style. Whether your garden is modern or classic in design, make room for this regal beauty. She'll instantly up your garden game.
You might be a BOMBSHELL™ if:
You have a confident, commanding presence.
You have a classic sense of style.
Everything you touch turns to gold.
Bloom time: Spring 'til first frost
Light: Full Sun-6 of more hours of direct sunlight daily
Hardiness: Zone 9-Protect your patio planters by bringing them indoors in the winter.
Size: 3' H x 3' W when planted in the landscape. Patio plantings can be pruned to maintain an optimal size
Spacing: 3-4'
Water: Keep soil moist until established
Prune: As needed and desired to maintain shape
Plant Food: Apply slow release once per year in early Spring
Mulch: Keep a layer of mulch around the base of the plant year-round to conserve water and reduce weeds.
Ideas for Use: Hollywood Hibiscus are perfect to add to your landscape as colorful tropical annuals, and also make beautiful container plants to display on your patio or around your pool.
Purchase: https://www.naturehills.com/hollywood-hibiscus-bombshell