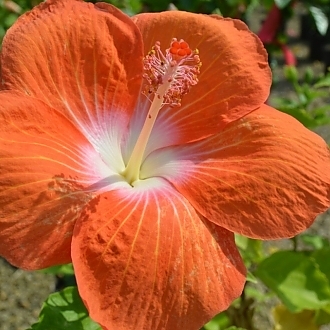 Hollywood™ Heartbreaker™ Hibiscus rosa-sinensis 'BH-06' PPAF
For good looks and constant charm, while he's in your garden, anyway, you can't beat HEARTBREAKER™. His flashy orange petals adorned with yellow-gold veining and an attention-grabbing white center will make him the center of attention wherever he's planted. And that's just fine with him. HEARTBREAKER™ has a soft spot for LEADING LADY™, and you'll see them gallivanting around town as complete besties, ducking in and out of shops, scouring the racks for new accessories. Looking for the latest fashion trends? HEARTBREAKER™'s got you covered.
You might be a HEARTBREAKER™ if:
You're confident and charismatic.
You're up-to-date on everything new and exciting.
You're tons of fun to be around — when you're around.
Bloom time: Spring 'til first frost
Light: Full Sun-6 or more hours of direct sunlight daily
Hardiness: Zone 9-Protect your patio planters by bringing them indoors in the winter.
Size: 3' H x 3' W when planted in the landscape. Patio plantings can be pruned to maintain an optimal size
Spacing: 3-4'
Water: Keep soil moist until established
Prune: As needed and desired to maintain shape
Plant Food: Apply slow release once per year in early Spring
Mulch: Keep a layer of mulch around the base of the plant year-round to conserve water and reduce weeds.
Ideas for Use: Hollywood Hibiscus are perfect to add to your landscape as colorful tropical annuals, and also make beautiful container plants to display on your patio or around your pool.