#

Cultivate18 - A Winning Show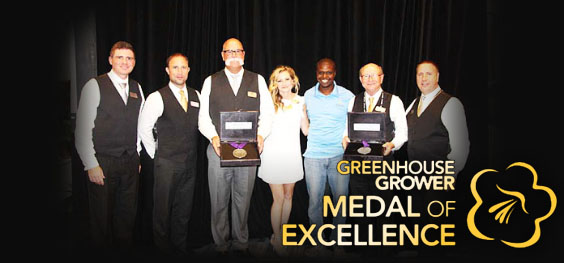 #Cultivate18 – A Winning Show
The J. Berry team didn't have to take a plane home from Ohio to Texas as we were floating on air after a double win for our Summer Spice™ Hardy Hibiscus at Cultivate18. The Greenhouse Grower Magazine Medal of Excellence Awards are the floriculture industry's premier awards and recognition program for more than 25 years. Three awards are presented for breeding and our Summer Spice™ Hardy Hibiscus nabbed two of them, being named the Editor's Choice and the Reader's Choice winners! Needless to say, we're honored and thrilled beyond belief!
Young Plants Division Debut
We formally announced the debut of our new Young Plants Division at Cultivate18. Attendees were able to meet Dr. Judson LeCompte, who will lead this new J. Berry venture.

The Young Plants Division will offer liners of our popular brands including Black Diamond® and Emerald Empire™ Crapemyrtles, Déjà Bloom® Azaleas, Summer Spice™Hardy Hibiscus, Cabana Cannas™, Crown Jewel™ Begonias as well as J. Berry Premium Shrubs. We are offering plants in 50 count trays and large 15 count "Moneymakers" for a fast turn. You can view our current availability here. We are pre-booking orders now for Spring 2019.
J. Berry Shines in Ohio
In a nutshell, Cultivate18 was simply the best year ever for J. Berry. Besides winning awards and announcing our Young Plants division, our booth had a glam new look" we debuted our Crown Jewel™ Begonias with fun giveaway ring and cufflink "bling" and awarded our elite network of licensees, container and tag suppliers, strategic broker and retail partners and prestigious supportive organizations of our Hollywood™ Hibiscus and Black Diamond® brands with our version of an Oscar and Emmy. Last but not least we took home a couple awards from our peers.
Global Recognition
It is exciting to see our plants being recognized not only in the US but also globally! Our Pink Ribbons™ Déjà Bloom® Azalea won the 2018 World Garden Show Ornamental Plant Exhibit Award in China!

Pink Ribbons™ has a light floral fragrance and its strong growth habits mean it easily forms a blooming hedge. If this re-bloomer is not in your product mix, you should consider adding it today!
Next!
Where can you connect next with J. Berry this summer? In August, we're doing double duty in Chicago, exhibiting at both the GWA Annual Conference & Expo (booths 12 and 13) and the IGC Show (booth 3109) which are co-located at Navy Pier.

This is our first time exhibiting at the IGC show and we're excited to connect with retailers of all shapes and sizes. It's one more step in market penetration for our brands.

This is our third year exhibiting at GWA. Engaging with garden communicators, introducing them to our brands and providing them with trial plants brings them on board, helping spread the new plant news within their spheres of influence to both the gardening public and the trade, across North America and beyond.

Scott Sterling, J. Berry Supply Chain Manager, will be attending the Farwest trade show where we have entered three plants into the New Varieties Showcase: Ambrosia™; Summer Spice™ Hardy Hibiscus, Positively Peridot and Enduring Onyx Crown Jewel™ Begonias. Last year our Black Diamond™ Purely Purple™ Crapemyrtle was named a People's Choice Award winner!

Last but certainly not least, J. Berry is a partner in the TNLA Nursery/Landscape Expo in San Antonio, Texas. Please be on the lookout for our brands on display; the show theme is safari and of course we LOVE a good theme so... #explorefearlesslytnla2018!
Like the information in this newsletter? We invite you to spread the word!
‹ Back